The Southwestern point of Europe is not only home to a couple of thousand miles picturesque, history-charged coast with dramatic cliffs and lush green hills but also homeland for a couple of world-class waves. In the following article I will share all info you need for a great time while surfing in the Algarve – there we go!
First things first: A car is incredibly handy to have, as getting from A to B with busses would eat up a lot of time. The good thing here – renting a car in Portugal is cheap! If you are interested in a camper trip, you can also rent a rolling home quite easily. Of course, these are more expensive than a regular car but if you get a good deal and split between two, it can be worth it! Through this, you are super flexible and you can jump in the water whenever you feel like it. But more on accommodation and camper vans later.
The Algarve starts a few miles north of Aljezur and ends at the Spanish border so basically refers to Portugals Southernmost tip. Surfing here is most of the time uncomplicated as waves break close to the shoreline and most of the surf spots have a sandy bottom. That minimizes the risk of getting injured drastically!
In our time while surfing in the Algarve we've met many surfers that stopped by every surf spot on a daily basis and stayed where they liked it most. Tides, winds and swell directions can differ often greatly, so it can make sense to check before you hop into the water. What I am trying to say here – the spots are all only a few miles apart from each other, so checking before deciding where to stay is easily possible.
Surfing in Sagres & close by
I personally really liked Sagres and the area around it a lot. Besides many great beaches, we had great food and sometimes just did nothing. In case you decide in favor of a camper trip you will most likely witness the same as we did. Little things like the morning coffee become more than just a habit but a ritual that you look forward to the night before.
In our time (beginning of April) the wind coming from the north – also known as Nortada– blew quite intensely. This wind is pretty bad for surfing but later I will also cover some spots that will still produce some great waves. As aforementioned, swell, wind and tides can vary between spots and thus it sometimes makes sense to check a couple of spots before deciding to stay at one for an entire day. The often good Magic Seaweed forecast here didn't help big times in our case. Consequently, we often decided to drive there and quickly have a look.
Surf spots in Sagres
Being in Portugal always feels like being on an island. You seem to be surrounded by water! Most likely one of the reasons why we fell in love with this country in the last years. Let's check some surf spots in Sagres, the South!
Sagres (Tonel)
Frankly, we didn't see Tonel working but it is supposed to produce some good waves when there is a big swell coming from the south. A friend who surfed Tonel often said, waves tend to close out, so you need to be a bit lucky.
Beliche
In our time while surfing in the Algarve the Nortada blew really bad and made most waves unsurfable. Beliche, in contrast to many other more exposed spots, is comparatively protected and thus I had a couple of really good sessions here. The A-frame waves often tend to break comparatively hollow and is due to its currents no spot for beginners. It also seemed a great spot for body boarders.
One more surf spot on Portugals South Coast
Here, one more surf spot on the South Coast. Generally speaking, I can only say that driving around gets rewarded. Open a map or just follow signs to the next beach! Perhaps you find a gem! That's what we also did!
Zavial
A few miles Northeast of Sagres you will find this little beauty. Zavial has the potential to produce some of the finest waves in the area but needs a bit more swell from west or south. Waves here also break comparatively fast and hollow. As soon as the condition is half-way good, the spot can get crowded with a bunch of surf-eager locals! Pay attention to the rules in the water.
By the way: At the very end of the article, you will find a hint on our absolute favorite spot while surfing in the Algarve. So, stay with us!
Surfing on Portugals West Coast
Let's continue west! After covering some surf spots on the beautiful South Coast, let's head west! To make your life easier, I sorted the spots from south to north.
Cordoama
Cordoama is picturesque! The Nortada, that unfortunately destroyed waves here also had its perks. Paraglider's jumped in the deep and used upstreams to float silently through the air. Waves here normally break in a classic A-frame and quite consistently. Here, surfers in very different skills-levels can have a lot of fun.
Amado
The place to be not only for beginners but also for travelers that want to have a coffee or a beer while watching the sun sinking in the ocean. The light just before sunset illuminates the red cliffs and lets them appear even more dramatic. Also intermediates will find waves to surf, that's for certain.
Surfing in and around Aljezur
In the middle of a national park you will find the town Aljezur. Another Portuguese surf mecca beside Peniche and Sagres. Here three spots just a few car minutes apart from each other.
Arrifana
After unknowingly trying to surf in too big conditions in Bali, here I proudly celebrated my first progress. These memories made coming back even better! The bay is protected by huge cliffs, which is great, as it protects waves when the wind blows. The perhaps most well-known surf spot in the area. A few minutes from Arrifana you will find Monte Clérigo and Praia do Amoreira.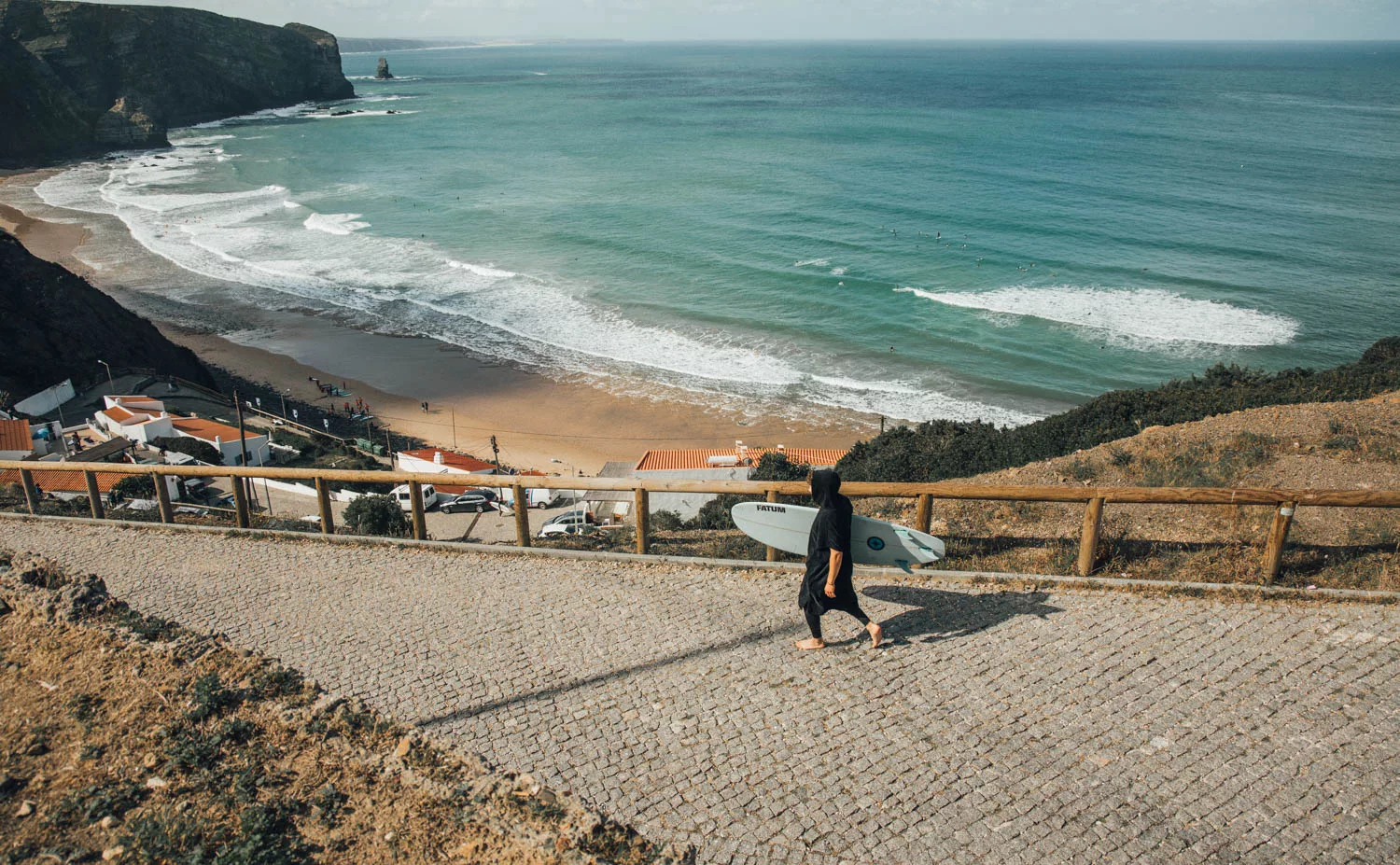 Monte Clérigo
Another beautiful beach between two bigger hills. Parts of the town snail along the hills and complete the perfect picture. I have rarely seen Monte Clérigo overcrowded with surfers but still produces some good waves quite often. The current and rocks in the water make it less of a beginner spot than Arrifana.
Amoreira
When looking at Praia do Amoreira you get reminded that you are in-mid of a National Park. A wide-sand beach with comparatively empty line-ups. The sandbanks often have their own will, which makes the spot a bit inconsistent. Checking by occasionally definitely makes sense as it can also produce some really good waves.
Surfing in the Algarve – Surf camps in Sagres
If you are looking for a surf camp in Sagres, you will find many options. Here I would look a bit around as preferences can vary. Some prefer calm hostels to get sleep and to be the first in the water, some prefer to get drinks with other travelers and celebrate the waves they've caught. Both certainly are good fun but decide what you are looking for.
We've heard a few good things about this camp*, when talking to other people on the road.
Where to stay in Sagres and its surroundings
Same as with surf camps applies to accommodation in Sagres. You will find plenty of different options. Just check out this link* to get some inspiration for different styles and choose the one you like most!
We personally discovered camping for two years for us, that's why we got a camper van! Consequently, we didn't need a fixed place to stay and parked where we liked it and went camping sides here and there.
You will also find numerous campsites, whereas 'Orbitur' is by far the most widely-spread. All sites where we have stayed have been at least decent! Some have been better than others but all were clean and we enjoyed our time.
If you don't own a camper, or having little time to drive all the way down to Portugal, we can recommend the company Portugal by Van**. Here, we got our camper van and had a great experience while dealing with a helpful team.
A side note on camping: Wild camping is officially not allowed in Portugal but often accepted by the police. In case you decide in favour of camping just beside the ocean, make sure not to leave anything behind! As many campers don't feel the necessity of leaving their spot for the night neat and clean, the anger against wild camping understandably increased in the last years. Be part of the solution, not the problem!
Best Food in Sagres
Food in Portugal often consists of fish or meat and is most of the time, insanely good! Here two restaurant recommendations in Sagres!
Mar a vista
Here you will be able to order the fresh catch from Atlantic. Besides seafood you will also find a wide selection of hummer, crabs and other fish! The fish filet melts on your tongue and surely a place we can recommend.
Three Little Birds
On the restaurant's website it says "homemade soul food" and that's what you get! Meat-lovers will fall in love with this place and certainly should try the rips.
The good thing about surfing that you burn a lot of calories so that you are hungry almost around the clock. At the Algarve you don't need to go hungry to bed. Getting good and affordable food is something we definitely enjoyed.
Things to Do at the Algarve
Besides its incredible waves, the Algarve has a lot to offer. Lay days, where you can't surf won't be boring and here a few ideas on what to do!
In and around Lagos you can explore picturesque bays. If you are traveling in late summer, the water temperature will allow you to jump in the water without a wetsuit. We stopped by a couple of small beaches, prepared a small bite in a parking lot and enjoyed an espresso in the sun. In some of the bays, you will find an offer to go on a small boat and see Portugal from a different angle.
In Portugals Southwest, some mountains wait for you to be explored. The Monchique mountains are a great option for a day trip or even for staying a couple of nights in one of the small, authentic villages. Here you can absorb nature to the fullest and escape everything that reminds of hectic city life!
Of course, there are many more things to see and to do at the Algarve but most importantly I would suggest not to stress yourself trying to squeeze everything possible in the days you have. Rather take a step back and enjoy the slow life down there, see sunsets, take long walks and eat well!
Ah, Portugal! I hope I was able to make you eager to visit the beauty of a country!
P.s.: If you are interested in our secret beach tip at the Algarve, reach out to us on Instagram and we will be happy to share it 🙂
// *Affiliate Link | When booking, we receive a small commission, without any extra costs for you!
// **paid partnership with Portugal by Van

More saltwater?
➳ Surfing in Peniche – The European Surf mecca!
➳ Surfing in Spain – When you travel in September, this might be your choice!
➳ Surfen in Medewi – A long left and great nasi goreng!
➳ Surfing on Nusa Lembongan – The tiny island with crystal clear waves
➳ Surfing in Northern Sumatra – Get barreled in pristine nature
➳ Surfing in Sri Lanka – Surfing in the Indian Ocean
➳ Puerto Escondido – Mexican's Pipeline and his small brother
➳ Surfing in Nicaragua – Off-Shore Paradise in SJDS