"Julian, where did you take me – Mars?" asked my friend Levi after I picked him up at the airport, coming for a visit. That explains Fuerteventura pretty well. I fully understand why most people say Fuerte is not really pretty, because it simply isn't. – But it definitely has something. It has a vibe.
The landscape certainly calms you down.  And most of all, it has some really nice waves, white-sand beaches and mild climate throughout the year. This is what this article will cover: Surfing on Fuerteventura – everything you need to know.
Surfing on Fuerteventura – who and when?
Due to its exposed location waves are rolling in throughout the year. That's why you don't really need to worry about waves. What you rather need to have an eye on, is the wind.
It picks up in April and stays over the summer until September and October – and surfers without a kite, don't really like wind. For clean waves, without these pretty annoying winds, you ideally come during the European winter and enjoy the African sun and the warm Atlantic. So Fuerte is the ideal location to escape long European winters. It's warm, laid-back and you'll have a ton of fun in the turquoise water.
In contrast to its neighbors, Fuerte offers a great variation of beach breaks that make Fuerte a true paradise also for surf beginners.
Let's sum things up, when's the best time to go to Fuerteventura.
April – October
Winds pick up, waves get messy, not the ideal time to go on a surf trip. However, you still can get a couple of really nice surf days. It most likely won't be flat. Especially for beginners, who are not dependent on clean waves but rather have their first tries in the white water, also summer can work out.
October – April
Fun and warm waves, less wind. This is the ideal time for a surf trip. The winter is rather something for advanced surfers, though.
December – February
During the winter months, the spots on Fuerte will be firing and thus rather good for more experienced surfers. As a beginner you'll most likely feel overwhelmed, as waves will be less forgiving than a little earlier, or later in the year.
What to do on Fuerteventura?
Let me explain how tourism in Fuerte developed during the last decades. The south is rather touristy with bigger hotels and golf resorts. Here you'll find a ton of restaurants and incredibly nice beaches to go for a swim, looong walks and chill out. If you have a family and want to relax, this is the place to go. But it's not where the best waves are. You'll find the waves in the less developed north. Despite some nudists on the beaches you'll find mainly surf tourism in the north.
When you compare Fuerte to other canary islands, I have to admit that you have limited possibilities on what to do. There are a couple of nice hikes along the coast that are definitely recommended and some nice excursions along old river beds, but Fuerte is certainly not as versatile as Tenerife, for example. You come to Fuertes north to hang out in cafes to do yoga and go surfing. If you expect that with a nice vibe, you'll have a blast on the Mars-like island.
As we've always been in the north of the island, we can only share recommendations on that region. In the south you can visit a couple of lovely cities, as we've heard. Beyond that, you can go on loooong walks along the beautiful beaches down there, as Julian remembers a trip during his childhood.
Hike up a volcano 
Just outside of Lajares you can start a nice little hike up a volcano. With 2 hours (both ways), it's not exactly long but due to its height and the warm climate, a quite sweaty thing to do. On top, you have a great view on the entire north and Lanzarote. We came here for golden hour and sunset and walked down during dusk. Bring water and a flashlight, if you want to watch the entire sunset.
Go on a hike 
There are a few really beautiful hikes that you can do on Fuerte – they surprised us by showing that Fuerte is a little more diverse than you might think. Here's a hike we've done along the coast.
It went along the beautiful cliffs and sandy caves. The last bit was really exhausting and challenging to walk up (steadyfootedness absolutely required). Here our group got overtaken by a runner in his mid 70s, completely naked, just wearing a mask. Chapeau to this guy!
I wouldn't have been able to run that hill up at his pace. We finished the hike just before sunset and had a beer in a little bar while the sun sank in the Atlantic – recommended!
Watch sunsets
Holidays for us means to make sunsets a substantial part of the day. On Fuerte, you can watch sunsets extraordinarily well as you just need a little hill to oversee quite a lot of land. In the area around La Oliva, where we stayed you can look for the windmills on the hills. These are great to enjoy a sunset. Also, El Cotillo, as well as other places on the west coast of the island.
Have awesome food 
Croquetas are just the cherry on the cake. There is a lot of food to be explored on the entire island. Fish dishes are outstanding and we've been surprised multiple times by restaurants.
As we mostly eat vegetarian food and that often still comes with limited options, we've been extremely surprised by a couple of Restaurants in El Cotillo.
If you spend your time here, definitely check out:
➳ Happy Cactus | Av. los Lagos 42, El Cotillo
This restaurant is also a good option if you don't follow a vegetarian or plant-based diet.
Also, something you shouldn't miss out on: the best pizza we've ever had. Yes, correct! The best pizza we've ever had and nothing even coming close. Grab your Neopolitanian Pizza at:
➳ Teperino | C. Pinito del Oro 3, El Cotillo
If there is a little space left, also have the Tiramisu! 🙂
Where to stay while surfing in Fuerteventura?
As mentioned before, the north is where you want to stay, when you plan to go surfing in Fuerteventura. Here, you'll mainly have the options between Corralejo, Lajares, and El Cotillo. Where exactly does not really matter, from a surfing perspective.
Lajares is strategically well-located between the north shore and the more western El Cotillo, so you are flexible on where to go surfing every day.
El Cotillo is a nice little town with some great waves at your doorstep and Corralejo is close to many different surf spots on the north shore – but at the same time also the biggest city up north. In the end it's entirely up to you on what you prefer. Rather a surf vibe in El Cotillo or Lajares, or more possibilities with going out options in Corralejo. That depends on your group, its needs and also the location you find.
When you've decided on the location you might ask yourself whether you'll be able to stay in AirBnB's, a hotel, or surf camps. The good news here: whatever you prefer.
➳ Here, you'll find plenty of options for all those* or on AirBnB.
We've spent most of our time on Fuerte in a bigger villa in La Oliva, which we've shared with a group of friends, in which we all worked remotely during our six weeks stay. For us, that was the best option as we had a lot of space for calls, fast Wifi (a lot better than in Germany) and were able to cook for ourselves.
If you are traveling alone or you want to meet other surfers, surf camps can be a great option. I saw a couple of options in Lajares as well as a few minutes outside of El Cotillo – here you better look around, as I never stayed in a camp on Fuerte and cannot recommend any.
During our second stay – for which we decided incredibly spontaneously only to book flights five days prior to the trip, we didn't find an Airbnb anymore and thus stayed  in a hotel in El Cotillo. Despite the fact that we only spent 50€ for two people for a night, it ended up being an expensive 10 days, as we weren't able to cook for ourselves. Always have that in mind, when deciding the type of your accommodation.
Surf Spots in Fuerteventura
Waves are quite different and each of us has their favorites, right? As I also have been unsure, I just drove around, hopped in different spots and got used to them during our stay. Do the same! It gives you a good feeling on the island and options to surf. If you wonder if there are stones in the lineup or currents, just speak to other surfers to get an understanding of the spot and confidence in the water.
The main surf spots of the island are located on the north shore of the island. Let's start in the western part, El Cotillo.
El Cotillo 
During our first stay that was the spot where I mainly went in. The long coast has several peaks and can hold a lot of people due to its sheer size. Where the best waves break changes from day to day.
Waves here are mainly breaking over sandy bottom, which makes it also the go-to place for beginners and other aspiring surfers who prefer softer grounds. Once you park your car up on the cliffs, you can observe the waves perfectly and decide on where to paddle out. I found it quite difficult to take off on most of the peaks here as waves were quite fast. However, I had some awesome sessions here.
El Hierro
I experienced El Hierro mellow and beautiful in January. However I heard from surfers, that it can also shows it's angrier, less forgiving face. On a 3-5ft day with a little bit of an offshore breeze, you'll have a blast even without a ton of experience. Once the swell picks up, leave it to the guys who want to get barrelled! If you're one of those: have fun!
Majanicho
I never really saw Majanicho working but also heard great stories about it when it does. It can also be a paradise for kiters but once it is, we surfers mostly face the issue of too much wind. Once the waves break, it's supposed to be a nice, forgiving wave which offers a long ride and comparable easy takeoffs. So definitely have a look at this spot.
Los Lobos 
With a boat from Corralejo, you'll reach the tiny island – on which only one family lives – in a couple of minutes drive. Once the anker is out, you and your friends can hop in the beautiful blue and enjoy the spot. I saw many people wearing booties, so it could be advisable to wear them because of lava stone and sea urchins, these little devils.
To find more, lesser known spots drive around and explore. I don't want to share all the spots here. Exploring should still be part of the game – and certainly is part of the fun. 🙂
Surf Equipment on Fuerte
Compared to other parts of the world, renting out equipment is not super cheap in Europe. Same applies to Fuerte.
But if you are traveling without your own equipment and stay a little longer, the cheapest would be to buy a used surfboard and sell it at the end of your trip. Here, Facebook Marketplace as well as milanuncios work great. If you have to rent, just compare a bit, but prices are mostly the same. Ideally you get the board(s) for your entire stay. So you are flexible when you go out as well as mostly you are able to negotiate prices a bit.
If you like to attend classes, you ideally get your equipment there. Once you are hooked after your lessons, you can then rent a board yourself.
Summing things up
Fuerte is a perfect winter escape and at that time of the year also a world-class surf destination. The island isn't known for its beauty and there is not a lot to do besides hanging out in cafés, go surfing and do a little yoga session (which sounds like a perfect trip). As most accommodations have fast wifi the island is a dream for remote workers. Surfing in Fuerteventura is fun! We'll be back for sure.
MORE SALT WATER?
➳ If you are planning a surf trip to Europe, have a look at our article SURFING IN NORTH SPAIN! Or at our article Surfing at the Algarve. 🙂
➳ You are looking for some more infos for your MEXICO TRIP or still searching the perfect TRAVEL ROUTE THROUGH MEXICO?
➳ Or are you planning to visit the surf mecca in Nicaragua – SAN JUAN DEL SUR?
➳ Sri Lanka is calling? Then head over to our article about SURFING IN SRI LANKA!
➳ SURFING IN NORTHERN SUMATRA offers impressive waves and pristine nature. Beautiful Indonesia!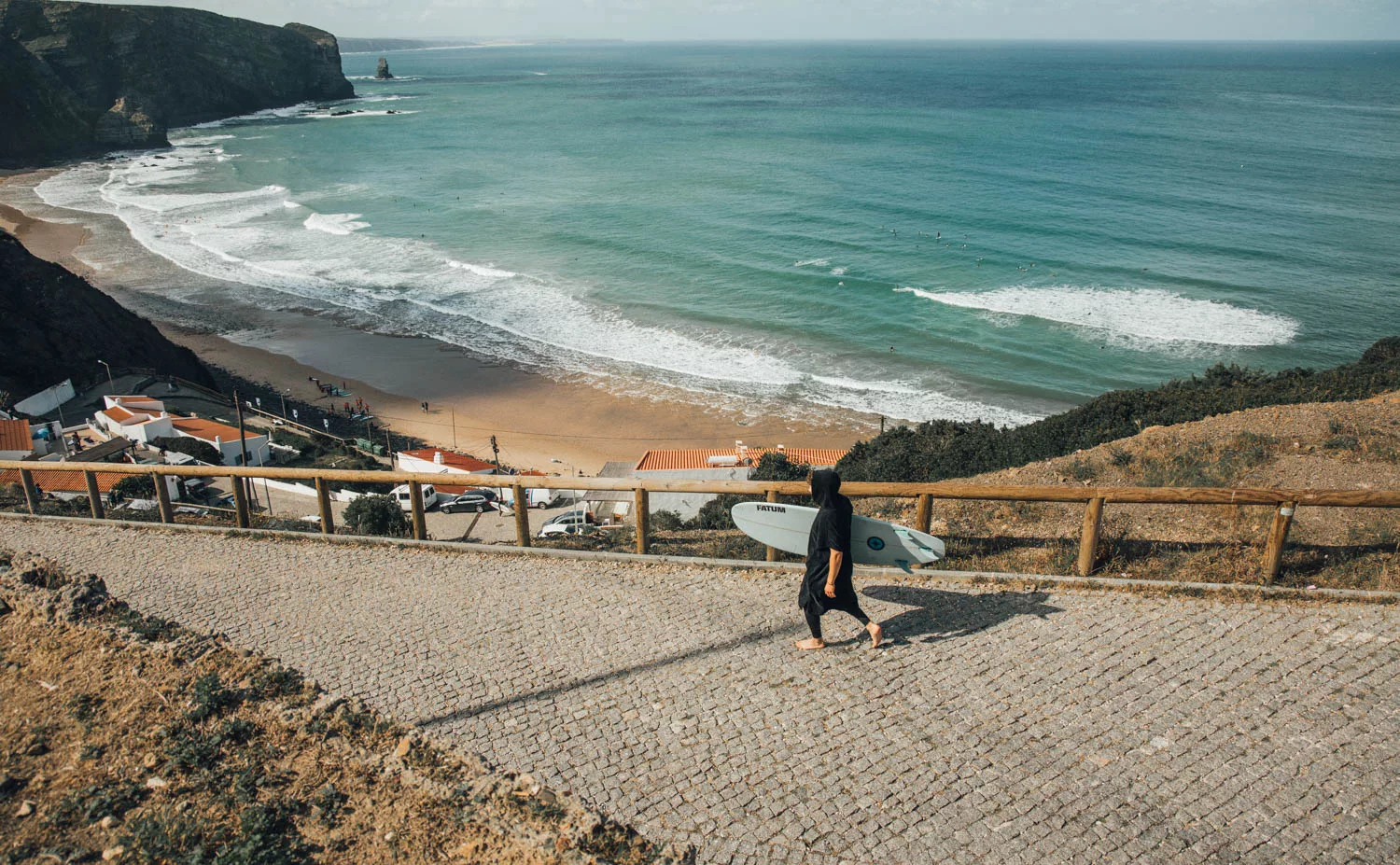 More Surf?